When it comes to the ever-popular video streaming service market, everyone wants a piece of the pie. Now, Facebook and Disney are announcing their own video services, but with very different approaches to both streaming and content.
It's a big week for the the video streaming market and consumers, as both Facebook and Disney announce their plans to launch their own services. Because of their obvious differences, the content on these new sites will be different — but their approaches getting into the market are world's apart, too.
The news from Disney comes not long after they signed content rights over to Netflix. But with the announcement of their own streaming service in 2019, they say they'll pull their content off Netflix that same year. For Disney lovers or parents of Disney loving kids, this could be both a blessing and a curse. On the one hand, all the content they want is in one place. On the other, it's one more service to add to the queue.
This isn't the first streaming service for Disney, though. They already have one running in the United Kingdom called DisneyLife, and it's pretty much a Disney-branded Netflix. Whether their new service will be modeled off of this is uncertain.
What we do know is that it's going to have oldies-but-goodies alongside new, original series. Whether the new streaming service will also contain titles from Marvel or Star Wars (LucasFilm) is up in the air, but we can expect Pixar to make the cut. What we also know about their venture into video streaming is that it will be powered by BAMTech, the streaming infrastructure service they just bought a 75 percent stake in (pending approval).
But, the challenge that Disney is going to face is getting people to make the switch. Facebook, on the other hand, is tapping into their social network of 2 billion active monthly users to launch their streaming service, Watch. You'll be able to find Watch on the website as well as the app, and it's going to be a personalized feed of videos that cater to your interests; it'll also show you what your friends are watching.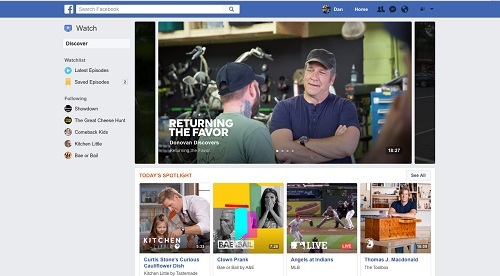 Facebook's approach is inherently social. They want to use their network to jolt interaction between users and the videos — creating comment sections, allowing people to watch together, and even form groups dedicated to particular shows. It's a smart move, as users already look to Facebook to find some of the hottest videos of the moment.
But what kinds of shows are we talking about, here? Well, reportedly content will be provided by third parties like Buzzfeed, Tastemade, ATTN, and Conde Nast — amongst others. The idea is that users can subscribe to different themes and create watch lists to follow — similar to Youtube. But, what's missing here is original content from Facebook itself, and as of right now, that's not totally on the radar. But that's most likely subject to change.
So what we have is essentially Disney's version of Netflix, and Facebook creating a socially boosted, Youtube-esque service. Although they're building off of we already see in the market, both companies have poised themselves in unique, and interesting positions to make a name for themselves in the ever-growing video sphere. Whether they successfully grasp the attention of consumers, though, is to be determined.